Bear witness to one of the world's greatest natural wonders
Have you ever seen a waterfall… on its side?
Spectacular gorges, stunning turquoise waters and one thrilling tidal event make for a scene straight out of the next Indiana Jones blockbuster.
So, satchel and fedora at the ready – strap in, sit back and prepare for an adrenaline-pumping, once-in-a-lifetime adventure you'll be talking about for the rest of your life (you can leave the leather jacket at home).
The Highlights

Horizontal Falls
The main event – an entirely unique phenomena hailed by David Attenborough as one of the world's greatest natural wonders (and he's seen a few). Fly over the falls and witness the world-renowned spectacle in all its glory.

Tailored to get you the best view, every time
We may be pilots, but we know these tides as well as any air current. The tidal flow of the falls changes each day, so if it's flowing in the morning, we'll take you right there – if it's afternoon, we'll stop off for a bite to eat first.

Hot breakfast or lunch
Drawing inspiration from their pearling history, indigenous ingredients and local seafood, Cygnet Bay Pearl Farm isn't your typical pitstop. Enjoy a hot breakfast or barramundi lunch – it doesn't get more Broome than that – with dietary options available.

Choose your own Cygnet Bay adventure
Pearl Farm tour? Sea safari? Rigi Art Shell Carving experience with the land's traditional owners? There's something for every adventurer at Cygnet Bay, so we've set aside two hours here. How you spend them is up to you.

Marvel at the majestic King Sound and Buccaneer Archipelago
Glowing rock formations, striking cliff faces and a thousand islands. Sound like something from another time? Well, it is. Fly over one of the most remote, rugged and untouched regions in the world, and watch time stop still.

And a window seat to so much more…
You'll have the best seat in the house to Cape Leveque, Beagle Bay, the Lacepede Islands, James Price Point and more. Your ever-knowledgeable pilot's running commentary will ensure you won't miss a thing.
Departures
We time our fly over so you see the falls at their peak, so departure time varies depending on the day's tides but is always between 7.00-9.00am. More information on your departure time can be found on the booking link below.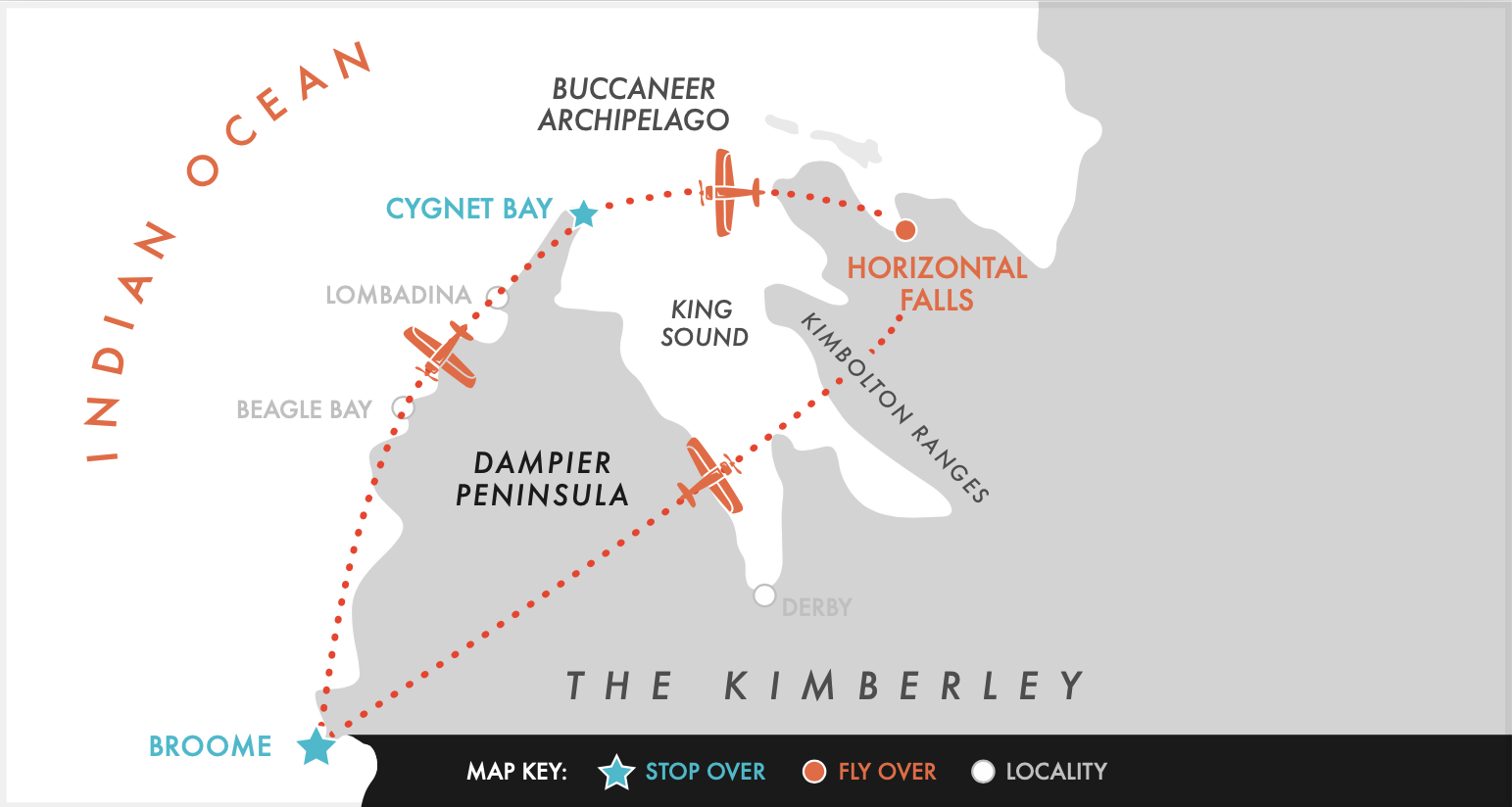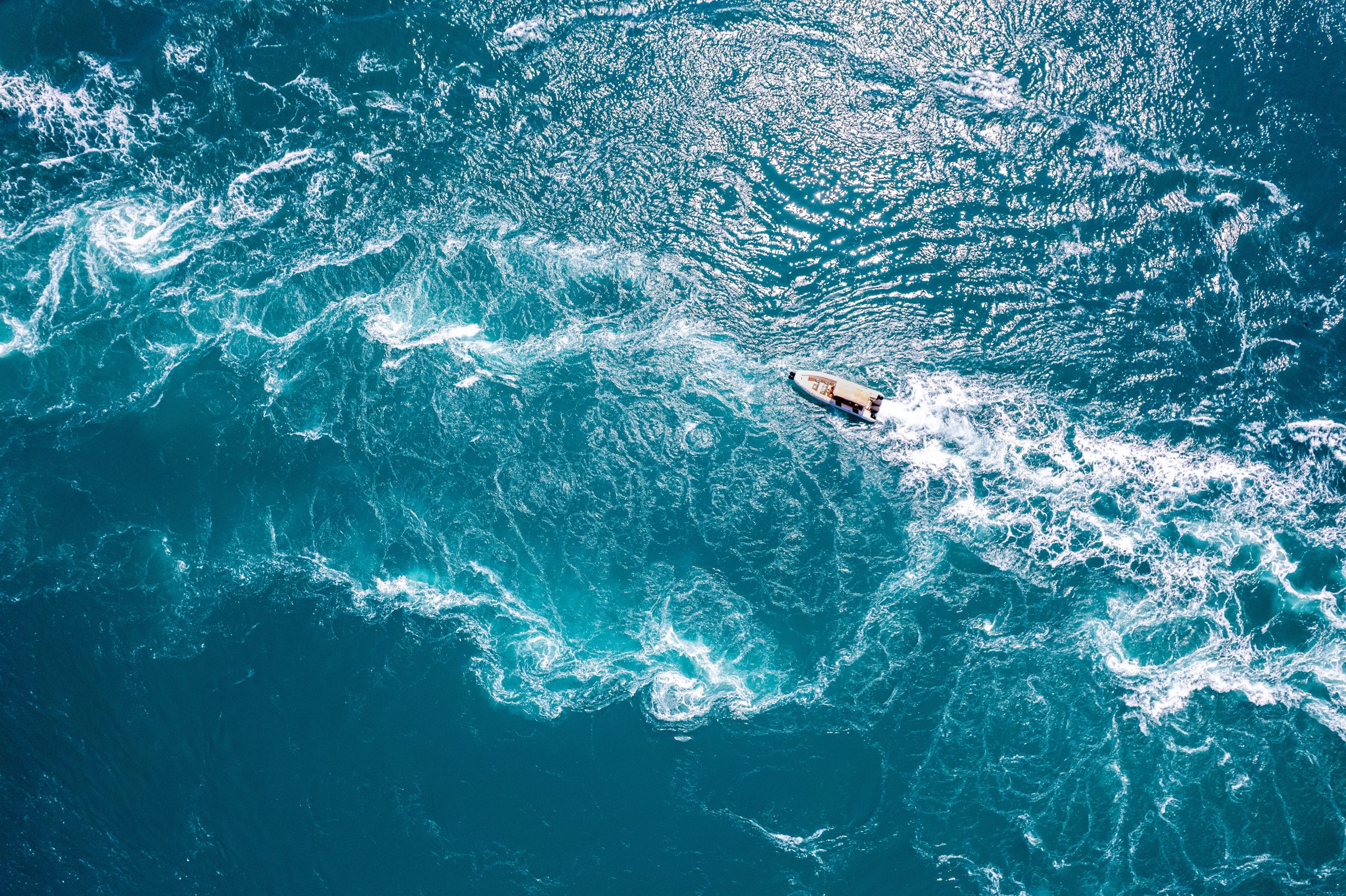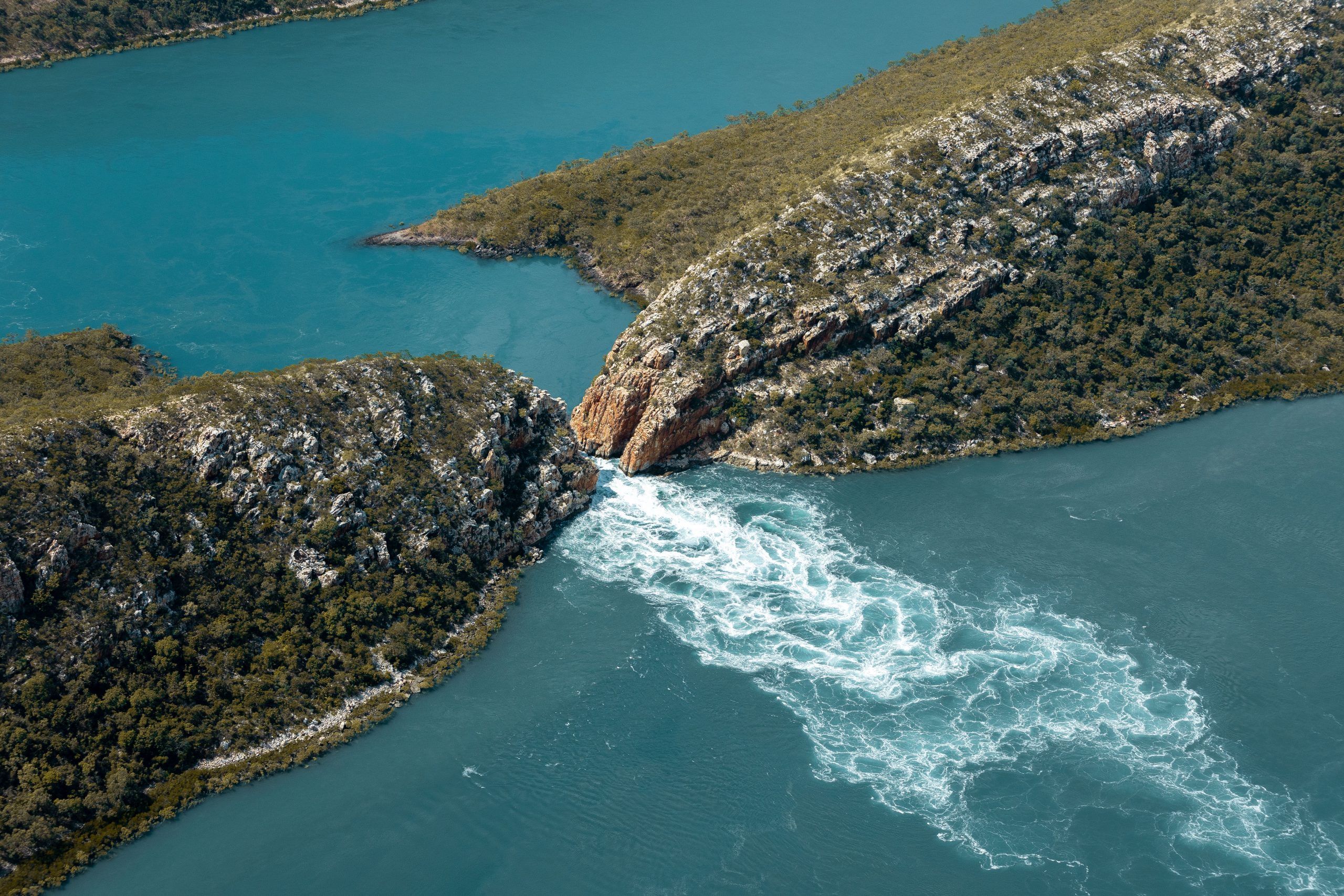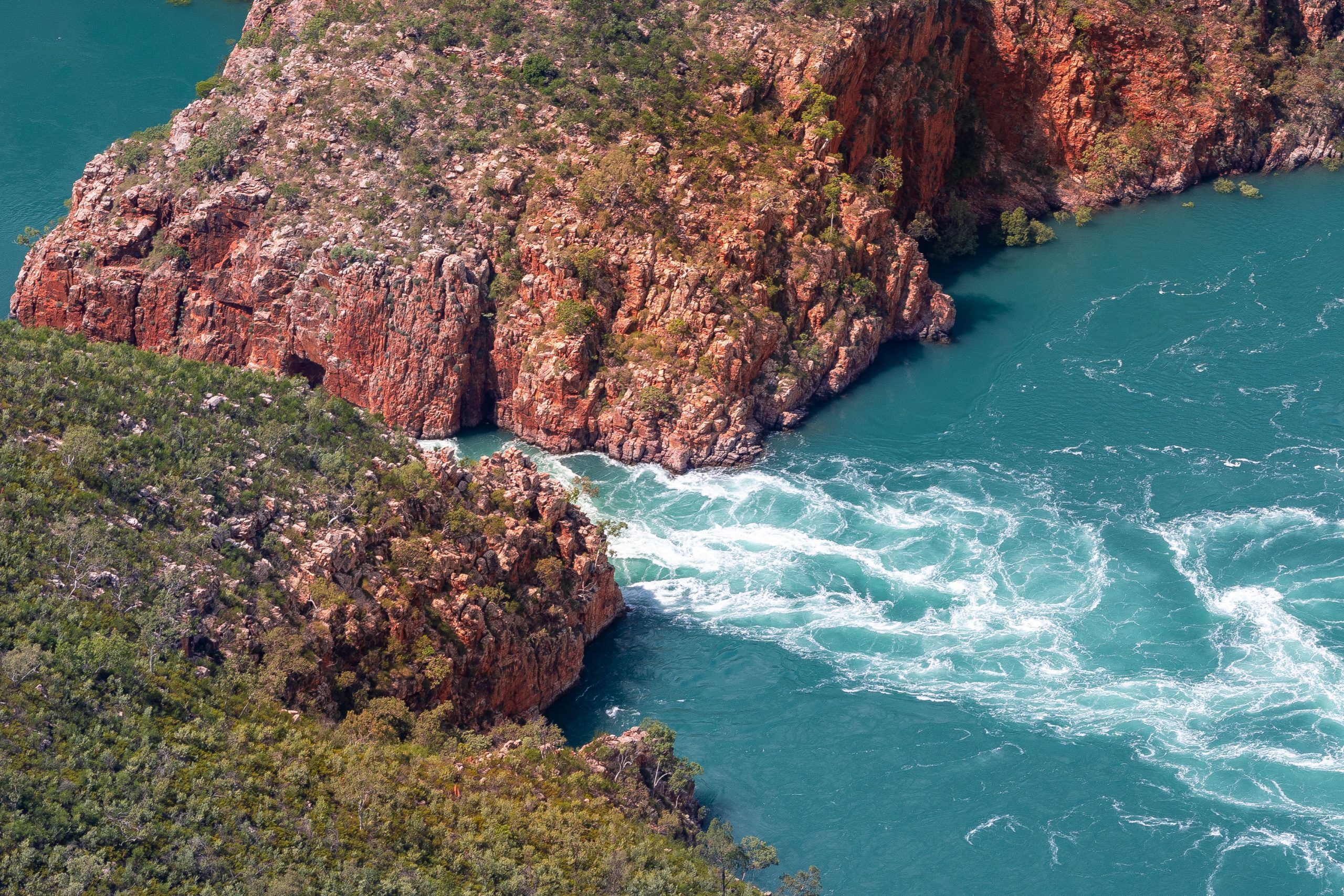 Pricing
ADULT (12 years and older)
SENIOR (60 years and older)
CHILDREN AND INFANTS UNDER 3 FLY FREE**
*Additional charges apply for optional tour extras at Cygnet Bay.
**No seat – children and infants under three years old must sit on your lap.
INCLUSIONS
Complimentary bus transfer
Full pilot commentary
Cooked breakfast or lunch
Bottled water with complimentary Fly Broome stubby holder
Souvenir tour photo card and map
Digital group photos

Absolutely! You'll be seeing some of the most spectacular beauty the world has to offer and we hardly blame you for wanting to capture a part of it for your fridge. A word of warning though… your snaps are unlikely to really do it justice, but we'd love to see the attempts all the same! Tag us over on the gram @flybroome.
Of course they are. Lucky kids! Infants and children under three fly free, though must sit on your lap (a special safety belt is provided). We find most little ones fall asleep pretty quickly with the gentle humming of the engine so we can't promise they'll remember much… so be sure to take a picture to prove your status as the best parent in the world.
Yes, we regularly take pregnant women on board. However, we understand every woman and every pregnancy is different, so it's really up to you! If you have any concerns, please consult your doctor before you fly.
Absolutely. We take very good care of our older passengers and those who require a little extra assistance. We can also arrange vehicles to support less mobile passengers when we land for our stopovers, so do let us know if this is something you require at the time of booking. If you have any concerns around accessibility, please contact us prior to booking to discuss any specific requirements and we will do everything we can to support them.
Yes. The health and safety of our guests, staff and the community is of the utmost importance to us. We visit restaurants and remote communities on tour, so unless you have an approved medical exemption, in line with government directives anyone aged 16 and above must be vaccinated to join us.
Yes, in line with government directives anyone aged 12 and above will need to wear a mask. We do have our own supply of disposable masks on board, but please bring your own if possible.
Great question – and yes, it's beautiful and balmy year round! But don't worry, our brilliant bookings manager and all-round team hero Leanne has thought of everything. You'll find extra water bottles on board and frozen towels to keep you cool.