A town with a human history as vivid and varied as its landscape
For those of you with a thirst for knowledge and a desire to really immerse yourself in the heart of a place – this one's for you.
Your bird's eye tour will deliver scenes of spectacular beauty as we fly over a dramatic landscape of red cliffs, white sand and an ocean of blue and green.
But it's when we touch down that it gets really special… where a host of local characters await to introduce you to the real Broome – then and now.
The Highlights

Travel back to Old (Old) Broome
We start with a drive through town to show you the sights of Old Broome – stopping at Streeter's Jetty, Town Beach and more – to paint a picture of Broome some 150 years ago. It's the nearest thing to a time machine.

Visit Beagle Bay and meet Nyul Nyul Elder Robert Dann
Next it's wheels up and in the air on our way to meet Robert Dann at Beagle Bay, an Aboriginal community on the Dampier Peninsula. Enjoy a guided tour, a bite of bush tucker and a special didgeridoo performance right on the airstrip.

Barramundi lunch and a quick dip
Drawing inspiration from their pearling history, indigenous ingredients and local seafood, a barramundi lunch at Cygnet Bay Pearl Farm is the perfect taste of Broome (dietary options available). Be sure to jump in the infinity pool for a refreshing post-lunch swim – conveniently located right by the restaurant.

Cygnet Bay's storied history as told by an old Pearl Masters great, great grandson
Before we get back in the air, Terry Hunter – descendant of old Pearling Master Harry Hunter – is going to tell you a thing or two about pearling, its history and what it looks like today. Plus, see the Pearl Farm and how it cultivates some of the most sought-after pearls in the world.

And a window seat to so much more…
You'll have the best seat in the house to Cape Leveque, the Lacepede Islands, James Price Point and more – maybe even a passing whale. Your ever-knowledgeable pilot's running commentary will ensure you won't miss a thing.
Departures
We've got a lot to show you, so we depart Broome at 8am. To ensure we get away on time, pickups will begin bright and early at 7am.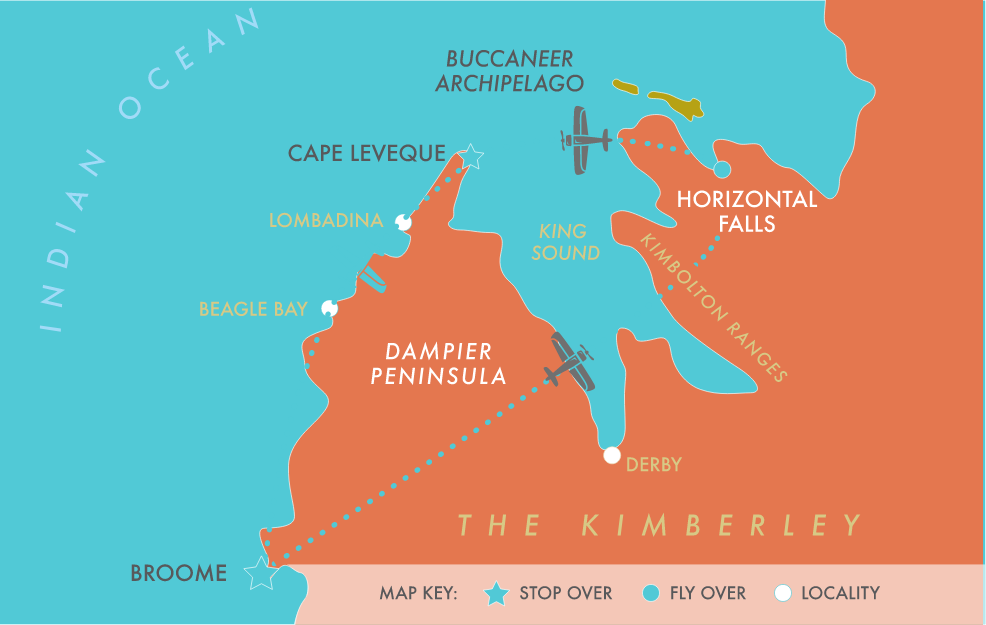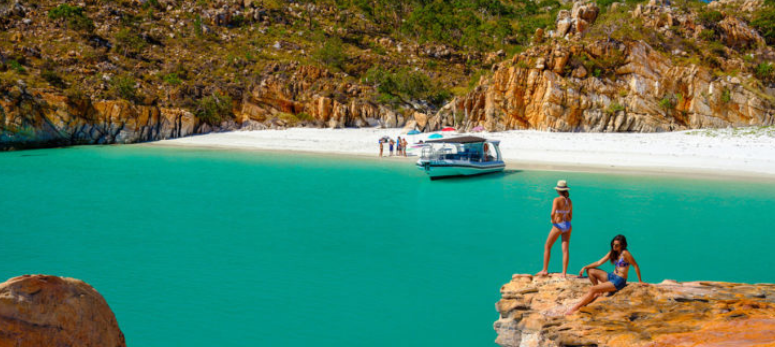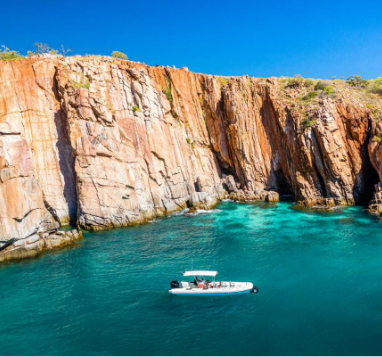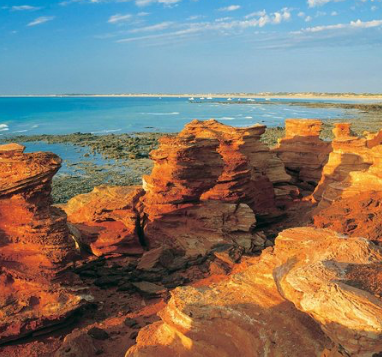 Pricing
ADULT (12 years and older)
SENIOR (60 years and older)
CHILDREN AND INFANTS UNDER 3 FLY FREE*
*No seat – children and infants under three years old must sit on your lap.
INCLUSIONS
Complimentary bus transfer
Full pilot commentary
Cooked breakfast or lunch
Bottled water with complimentary Fly Broome stubby holder
Souvenir tour photo card and map
Digital group photos

That's an easy one – yes. Every one of our passengers enjoys a window seat on board. That's a nonnegotiable for us. We're here to showcase the best of Broome, and we don't want you to miss a bit of it.
Absolutely! You'll be seeing some of the most spectacular beauty the world has to offer and we hardly blame you for wanting to capture a part of it for your fridge. A word of warning though… your snaps are unlikely to really do it justice, but we'd love to see the attempts all the same! Tag us over on the gram @flybroome.
Of course they are. Lucky kids! Infants and children under three fly free, though must sit on your lap (a special safety belt is provided). We find most little ones fall asleep pretty quickly with the gentle humming of the engine so we can't promise they'll remember much… so be sure to take a picture to prove your status as the best parent in the world.
Yes, we regularly take pregnant women on board. However, we understand every woman and every pregnancy is different, so it's really up to you! If you have any concerns, please consult your doctor before you fly.
Absolutely. We take very good care of our older passengers and those who require a little extra assistance. We can also arrange vehicles to support less mobile passengers when we land for our stopovers, so do let us know if this is something you require at the time of booking. If you have any concerns around accessibility, please contact us prior to booking to discuss any specific requirements and we will do everything we can to support them.
Yes. The health and safety of our guests, staff and the community is of the utmost importance to us. We visit restaurants and remote communities on tour, so unless you have an approved medical exemption, in line with government directives anyone aged 16 and above must be vaccinated to join us.
Yes, in line with government directives anyone aged 12 and above will need to wear a mask. We do have our own supply of disposable masks on board, but please bring your own if possible.
Great question – and yes, it's beautiful and balmy year round! But don't worry, our brilliant bookings manager and all-round team hero Leanne has thought of everything. You'll find extra water bottles on board and frozen towels to keep you cool.